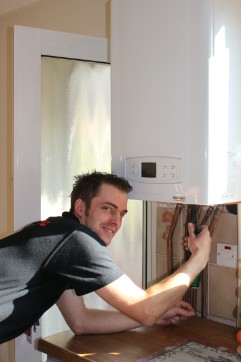 You should never attempt complex servicing or repair work on your central heating system yourself - always seek the assistance of a Gas Safe Registered Engineer
I would advise all boilers and central heating systems to be serviced regularly to keep them working efficiently.
At Polar Heating we offer a free central heating health check with every boiler service!
Energy Efficiency
A new boiler could save you as much as £300 per year on your annual fuel bills. The Vaillant EcoTec plus range is one of the boilers recommended by the Energy Saving Trust and as a Vaillant Approved Installer we can also offer a 5 year manufacturer's warranty on a new installation!
Common Boiler Problems
Boiler not working
Boiler controls not working
Complete loss of heat
Boiler is working but radiators stay cool
Some rooms are too hot and some are too cold
All radiators stay cold
One radiator stays cold
Parts of the radiator stay cold
Central heating pipes are leaking
Radiator leaking
Boiler Leaking
Overflow pipe dripping
Noisey boiler
Attempting any of the advice contained within these pages is at your own risk. If in doubt call a Gas Safe Registered Engineer. Polar Heating is a Gas Safe Registered business with a fully qualified & experienced engineer who is always happy to help.
Thermostats
Old thermostats can loose accuracy by misreading temperature settings and switching the heating on/off at the incorrect times. Make sure you have an accurate thermostat set at the correct temperature - this can save you 10-20 percent on your heating bills.
Radiator Valves
If you have a thermostatic radiator valve and the readiator isnt heating up try turning up the thermostat. If you have a conventional valve try and adjust the setting. If you are still experiencing problems you will need to call a Gas Safe Registered engineer to drain the system and replace it.
Condensate Pipe
These can freeze in cold weather causing a blockage and the boiler to shutdown. You may notice a fault code on the boiler or hear 'bubbling' noises coming from the boiler. If you are able to locate the frozen pipe you could attempt to solve the problem yourself by pouring a jug of warm water along the length of pipe and restarting the boiler. If this has not worked you will need to call a Gas Safe Registered engineer to resolve the problem.
You can avoid future problems by insulating the pipe.